In the past, market places around the world were considered a very important place for commerce. If someone had something to sell, they went off to the market. The market is where people negotiated prices, sold local and imported products, where bakers and cooks offered freshly made items, and farmers sold their crops. If you needed to feed your family, find items for your retail store, or curate new products for an industry, the market was the place!
As a significant sales point both large and independent sellers had to adopt a selling technique that would weather supply and demand. They also wanted to ensure repeat customers at their booth. With so many farmers, bakers and importers under one roof, savvy sellers not only had great prices and great products but highlighted courteous and personal service. Market vendors made a point of knowing their customers, their customer's family members and remembered the likes and dislikes. This enhanced service created a relationship that remains unique to markets.
Tlatelolco, the most astonishing Mexican market in Pre-Hispanic times.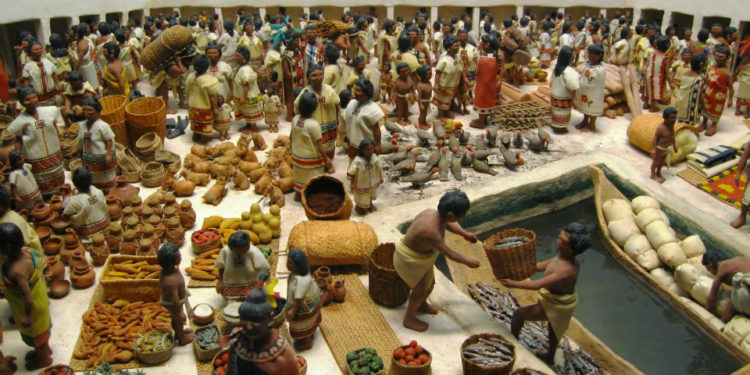 The Aztec culture was the predominant Pre-Hispanic culture in Central Mexico before the Spaniards arrive. Its empire extended from central and western Mexico well into Central America. Everyone would gather throughout the year in Tenochtitlan, which is now known as Mexico City to buy, sell and trade goods. This market was called the Tianguis of Tlatelolco, the most popular and important market in the region. Hernan Cortes wrote that this market was perfectly organized. He highlighted that items were divided in areas making buying easy for anyone who attended. Fresh products – pineapples, avocados, pumpkins and squash, fresh and dried chiles, zapotes, pitahayas, nanches, mamey, nopales, maize of all kind white, yellow, red, pink, blue, black were found in one corner of the market. Animals, like guajolote (wild turkey), wild porks, birds, venison, pheasant, ducks, were found in another. Other sections included medicinal herbs, valuable stones and metals,  pottery, fabric, leather, and clothes. Bernal Diaz del Castillo, mentioned that in this tianguis there were up to 60,000 people making trades, shopping or selling during the busiest hours of the day.
The essential part of the market were the small pop-up kitchens. The market was an all-day event as people travelled long distances to stock either their homes or stores. Food stalls produced inexpensive food and mimicked what you would be served at home. It was not unusual to see handmade tortillas, moles, grilled fish, roasted insects, quelites (eatable herbs), and beans.
The Asian influence at Mexican Markets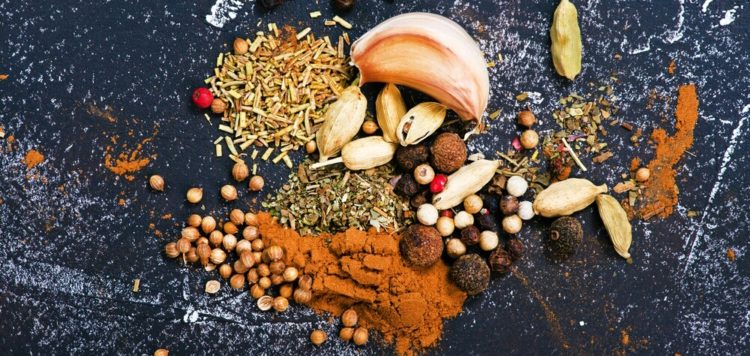 Witnessing the well organized trading point in Mexico, Spain decided that Mexico would be the best location to develop international trade for the New World. The Spanish used their Eastern influence to bring products from China, Thailand, Japan, Korea, and other Eastern countries to Manila. The ship, Galleon of Manila, delivered international products to Acapulco. Some products remained in Mexico, including Asian workers who transported and sold the products, and a good portion of the products were sent to Veracruz so European ships could transport items to Spain.
This is how Mangos, limes, tangerines, oranges, and lemons were introduced to Mexico. Spices such as cinnamon, cumin, star anise, cardamom, Szechuan pepper and rice became regular products sold at local markets. Asian products influenced Mexican food, and continue to be sold in local markets in Mexico City. Mexican food put their own stamp on the imported products that are unique to local cuisine. For example, rice is served various ways in Mexican Kitchens. It can be served with mole in central Mexico or with fried bananas in Veracruz. Rice dishes are red (as they are cooked with tomatoes), green (rice made with cilantro, parsley or poblano chili), white (rice cooked with onion and garlic), or black (cooked with huitlacoche, an edible fungus grown on the corn, turns black) or pink (cooked with beets).
 Contemporary Mexican Markets
Today, Mexican markets are known for their colorful display of local ingredients and product from around the world. Since the introduction of international trade over 500 years ago, Mexican recipes use these international ingredients the exact same way. What you will also find is that market etiquette, how sellers interact with buyers, and the important social aspect of the market is as important today as it was when markets began.
When you go to a local market in Mexico stall owners are happy, they love serving their clients. People still negotiate prices. In Spanish we call this "regatear" which means to make a deal with the price. You will hear sellers yelling out their best deal of the day – "Pásele marchantita, pásele doña o güerita, tenemos lo mejor de lo mejor" which in English would be "come here, we have the best of the best".
When you go to the local market you will not only find new products but you will learn how to use that product. Many indigenous communities introduce new products grown in the mountains, they may be selling medicinal herbs that will cure a cold or flu. The interchange of use, or information is a large part of the market experience. If you don't know what something is, or how to cook it, just ask. The seller is happy to share that information.
Mexican food markets are most famous for their food stalls. Authentic Mexican dishes are best found at the market. The variety of dishes, which are made with love and patience, can only be found in a local family home. These are not 'restaurant type meals' but local recipes passed down from generation to generation. Mexican markets are the only place to have authentic, traditional Mexican food.
Mexican Markets and the Struggle of Change.
No matter where you live, cities, communities and countries are effected by globalization. In previous years, a market reflected the identity of the community it served. Today, products from around the world are being sold at markets around the world. No longer do you need to travel to different countries to experience regional spices, fruits or vegetables. Our markets are one big melting pot.
The biggest threat to traditional Mexican food markets are large supermarkets chains. The convenience of one-stop-shopping as people juggle work, families, and daily stresses has become the norm. Food shopping is no longer a social event nor can it be an all-day event. The market for many is a tradition of the past. As the market is pushed aside so are ingredients that were once staples in the kitchen. Large grocery stores curate items for their shelves that can purchased on a mass scale. Some previously basic ingredients in the Mexican kitchen have been forgotten. As a result, local indigenous communities have stopped planting and cultivating these once popular ingredients. The loss of food and product knowledge is devastating to regional recipes.
Within many regions of Mexico there is a re-birth of market shopping, a desire to cultivate heirloom products that are a part of Mexican Cooking and part of Mexican culture. Younger generations are appreciating the market, the social atmosphere, the rediscovery of cultural foods that are the foundation to Mexican culture. People are again searching out authentic ingredients that their grandmothers used, or great grandparents loved.
Mexican food markets are a large part of Mexican culinary traditions. As a chef I feel it is our duty to preserve this important part of any culture whether it be Asian, Mexican, Indian or European. It is important to share this part of any countries culture with others, to be proud of those aspects that give us identity. Come with us on our walking tours to experience this deep market tradition of shopping, socializing, tasting, experimenting and learning about traditional Mexican food with our Riviera Maya Food Tours.